I've been thinking a lot about adversity lately.
This week I read the book Unbroken (likely, I'm the last person in America who didn't know it was a true story until the movie came out.)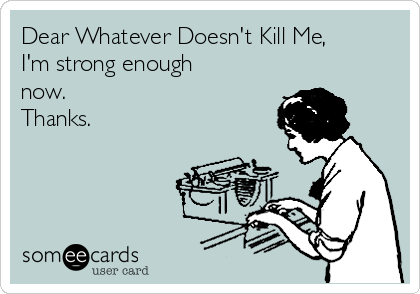 Calling it un-put-down-able is an understatement. I read it in an afternoon.
I found an interview with Angelina Jolie, who directed the film, in which she restates the well known aphorism, "What doesn't kill us makes us stronger."
I have a major problem with this statement.
I don't believe it's true.
I think what is true is that adversity changes us, perhaps in unforeseeable ways. Some of these changes may be interpreted as positive, but not always.
Over 90% of the survivors of the Japanese POW camps ended up with PTSD. Zamperini himself nearly drank himself to death in the years after his release, nearly strangling his pregnant wife to death in his sleep and suffering from flashbacks and nightmares for years.
One of the men, normally a gentle type who was cool under unbelievable stress, who survived on the life raft after their plane went down, attacked a waiter in a restaurant who served him white rice.
This is "stronger"?
A rape victim may have trouble with normal intimacy for the rest of her life. An adult survivor of child abuse may have trouble with healthy relationships and boundaries, or worse, become a predator themselves. I may break my ankle and hobble for the rest of my days.
The last year of my life with the birth of my premature baby has changed me.
I don't know that I'm stronger. I'm different.
Last week I went back to my place of worship for the first time since my son was discharged from the hospital, taking my baby along with me.
It was actually my second attempt. The first ended unsuccessfully, with me never leaving my car and my husband having to drive me back home in a storm of tears. I was terrified that people would swarm around me asking questions. I was afraid of my answers.
A few days later I did attend a meeting, but I was close to a panic attack the whole time. I felt the same going there after my son was born, when he was still in the NICU.
I would often come in at the last moment and steal out before the final prayer. It isn't that I don't care about my spiritual brothers and sisters, because I do … deeply, and I'm so grateful for their help and their prayers.
"I just can't face people," I told my husband. "I can't deal with their questions. And I'm afraid if someone says something thoughtless or insensitive to me, that I won't be able to answer like a good Christian."
Yesterday, while scrolling through his tablet's ringtones, my 14 year old son landed on the ditty that used to be my "pump" alarm when my son was hospitalized. When I heard it, I felt a horrible sinking feeling in my stomach.
"Please, Julien, don't use that ringtone and please don't play it ever again."
That simple, four-beat dum da dum dum threw me right back into that place of fear, shock and anxiety. Even though my son is no longer a fragile flower, I still have so many of those lingering emotions.  I avoid looking at the pictures taken of him.
I'm a very bad friend right now, avoiding social settings and even having difficulty returning people's calls. I forced myself to accept an invitation to a gathering in a couple of weeks so I could get back into the groove of socializing. I'm already anxious about it.
What do you think? Does adversity make us stronger? 
(Interestingly, I find no such concept in the scriptures. If you have, please let me know.)