One of the concerns that people most voice about home schooling is socialization. They ask, will the children get to interact with other kids?
This topic has been blown way out of proportion. I'm going to share my thoughts on the socialization issue and tell you how my kids are being socialized at home, by me.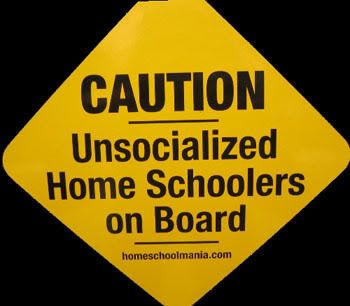 First of all, What is socialization?
(For fun, you can buy Unsocialized Homeschoolers
danger signs, bumper stickers and tee-shirts on Amazon!)
Kids interacting and learning to work with others on a daily basis is one part of socialization. Learning to take turns, learning how to not interrupt, how to have good manners – these are the social skills we want our kids to learn.
Let's be honest.
In public schools, there are bullies, unstable people, abused kids, violent kids, kids who have a disdain for authority, kids who are too lazy or dumb to learn in a classroom setting and who slow everything down, teachers with issues of their own, and I could go on.

Socialization in public school can become a nightmare because of these issues.
My brief stint as a substitute teacher provided plenty of evidence of this fact.
Putting 20+ kids of the same age in a room together doesn't seem the ideal way to teach them socially appropriate behaviors. Anyone who thinks so has never been around many children or read Lord of the Flies.
Critics of homeschooling say that being educated at home denies a child the ability to learn how to deal with social issues.
Talking with kids who are in public school in my area, I learn that one of these issues is sexual assault. Should my daughters have to walk past boys in the halls who grab their butt and cop a feel so they can "learn how to deal"?
That happened to me once at a show, but I used the opportunity to push the aggressor to the ground and then attempted to stomp him with my Doc Marten boots. If my daughters defended themselves thusly (and properly), they would likely be punished by some school administrator spewing anti-violence rhetoric.
In the workplace, sexual harassment can lead to job loss or prosecution, but who kicks these perps out of school? Usually, no one.
My sister was beaten up in elementary school by one group of minority kids who thought she was part of another minority (the two groups always being at war, even now). This was in the early 80's. Are things better now?
At home, my kids will also never be molested by teachers or admin or school bus drivers.
Socialization: Learned at Home
It seems to me that kids will learn social skills by observing the people who (hopefully) have mastered these skills – their parents. 
Kids are naturally social creatures – we all are. Unless we teach them to be otherwise, they will gravitate towards other kids they don't know simply out of curiosity. School is not the only place to find new friends.
Home schooled children participate in the same after school and weekend programs as public and private school children.
Programs like 4-H, Boy and Girl Scouts, YMCA, and church groups offer chances to interact with other people. There is no shortage of opportunities to see other kids their age.
My kids play with the neighbors and other kids at the gym. They have friends over. They interact with kids on homeschool field trips and spend time with kids that we worship with. Through the years, they have taken art classes, dance classes, gymnastics, ballet. My oldest son started a band who practices weekly in my home. They play with neighborhood kids when they come home from school.
When I was a teen and homeschooled, it was great because my best friend was also homeschooled. We could do sleepovers in the middle of the week and do our school work together. It was great!
I also had many friends all over the state who were also homeschooled – some I got together with on the weekends, some were penpals I saw infrequently, but I certainly never lacked for a social life.
Homeschooling parents find that there are many opportunities to teach their kids social skills in the course of the week.
I usually have the kids with me when I am shopping, banking, running errands, etc. This provides an opportunity for me to teach them appropriate behaviors, such as looking at an adult when they're spoken to and answering politely. It astounds me how often a child comes into my home and never even acknowledges my presence. My children speak to adults, as they should.
(I don't require my children to answer personal questions addressed to them by adults who don't have any business knowing the answer, that's just rude and I will point that out to my kids later.)
Typically, they get compliments on their behavior when we go out.
Home schooled kids don't spend all day in the house. Finding friends is not any more of a concern for them than it is for any other kids, regardless of how they're educated.
The more I think about it, the sillier the entire unsocialized homeschooler myth seems. It's a non-issue. There are homeschooled kids who lack social skills, just as there are public and private schooled kids who do. The bottom line is that it's the parent's job to teach their children manners and how to interact with other people.
Compulsory schooling is a modern invention. People seem to be getting ruder and less well mannered as time goes on… hmm, maybe there's a connection?