Alyssa at Mom's Talk Network tagged me to ask what was my biggest mothering mistake or regret
That's easy.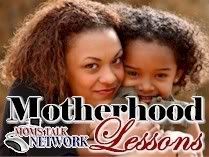 I have two.
Motherhood Regrets
I regret allowing my 7 year old son to undergo surgery when he was just a toddler.
He had several cavities and his dentist insisted that he have general anesthesia in order to fill his cavities. It's not like me to cave to the pressure of something a doctor tells me.
But for some reason I did this time.
He was not yet 2 years old – around 19 months or so – and had to be checked into the hospital. It was so scary.
Since then I have learned that a parent can cure tooth decay or at least arrest its development with strict dietary changes. I've also found research that points to dangers of using general anesthetic for children. In animals, anesthesia damages the brain.
Another reason I regret the decision to allow my son to have oral surgery is because his dentist put mercury fillings in his mouth.
I explicitly told her not to do so. She agreed that she would not.
But when he was wheeled back to the recovery room and to me, he had a mouth full of silver.
I have often wondered if my son's learning difficulties may stem from this exposure to mercury and anesthesia. I'll never know for sure. Every time he loses one of those filled teeth, I rejoice. His adult teeth are coming in beautiful and straight and cavity free.
If I was in this position again, I would have a watch and wait attitude. I would have told the dentist that I would take legal action against her if she was to put mercury in my child's mouth. And if dealing with the cavities was absolutely imperative, I would search for a dentist who would deal with them one at a time, with local anesthetic.
My second mothering regret was caving to pressure to leave my newborn son in the care of a babysitter when he was 3 months old. The people around me were insisting that my husband and I needed a date. I didn't feel ready to leave my baby behind. I should have kept him with me. He was nursing exclusively and often. I was miserable the whole time.
I nursed my son before leaving, and my (then) husband and I drove to a restaurant 15 minutes away. I had the babysitter promise that she would call me if my son woke up and cried for me.
When I arrived back I was shocked to find that my son was still sleeping. He never slept for that long. The babysitter had not called, but she explained to me that he woke up just minutes after we left. Crying.
And then she proceeded to give him bottles of water.
First, I was angry that my child received bottles without my permission. Second, the babysitter had ignored my wishes. She didn't call me when my son woke up and cried to nurse, because she thought she knew what was best for me and my son. She wanted me to have that date.
Recently, there was a news story about a baby who DIED because the mother gave her watered-down breastmilk. There were public service announcements everywhere instructing parents that it is NOT SAFE to give a baby under six months of age water. Period.
To this day, I am upset about this. My child could have suffered serious consequences of this. When I pointed this out to the babysitter, she said, "It's only water!".
"Water as a beverage should be completely off limits to babies six months old and younger"

Because babies' kidneys aren't yet mature, giving them too much water causes their bodies to release sodium along with excess water, Anders said. Losing sodium can affect brain activity, so early symptoms of water intoxication can include irritability, drowsiness and other mental changes. Other symptoms include low body temperature (generally 97 degrees or less), puffiness or swelling in the face, and seizures. – Source
Ignorance can kill. 
What about you? What motherhood regrets do you have?
And I'm also tagging a few of my blogging mamas:
Tiffany @NatureMoms
Nell @CasualEveryday
Jen @MadebyMoms