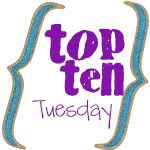 (This post was inspired by Kim at Life in a Shoe. I like her list but thought of a few reasons of my own so I'm adding them here.)
Top Ten Reasons to Have Children

Birth. It's one of the most amazing experiences in life. There's nothing in the world like it.
Falling in Love. We usually only get to feel this a few times in our life. That heady rush of emotions, the sleeplessness, the bliss, only existing for each other … you get to feel that every time you bring a new baby into the world.
The Smells. You might think I'm weird if you don't have children, but if you do you understand. Birth smells amazing. There's nothing like it. It's sweet, salty, earthy, bloody. Not to mention new baby smell.
Curves. I didn't get them until after I had kids.
Growth. Children grow you like nothing else. Even marriage doesn't challenge you as much as parenting does. It pushes you and pushes you some more until you're forced to stretch and grow.
Spirituality. Parenting brings you closer to your Creator. (How else could you fully appreciate what God did in sacrificing his only begotten son, if you don't have one?)
Passion. Having children makes a woman care more about the entire world of children. It forces her to think more about the future and the long term consequences of hers (and everyone else's) actions.
Sleep. It ain't all that. Becoming a mother helps you have a healthy attitude towards sleep. Sometimes, there are more important things to do.
Breastfeeding. It's totally empowering to be able to provide milk for your baby. Breastfeeding is fun! (See #4)
Fun. Having kids gives you permission to play, to have fun, to laugh and to remember what's truly important in life.(I know, technically I am supposed to stop at 10 for the purposes of Top Ten Tuesday. But how could I stop at only 10?)
Homeschooling. I realize that not every parent chooses to homeschool, but you have to be a parent in order to do so. Homeschooling is fun! You get to buy cheap school supplies on clearance (because everyone is already back to school), you get to feed your addiction to books, you get to go on field trips as often as you want! And you get to watch your kids learn things they were never "taught". Too cool.
Efficiency. Being a mom helps you learn how to do things with one hand (like cook), and in less time. Because you have to be more efficient, you become more efficient.
What would you add to the list?